Adopt One Standardised Incident Investigation System Throughout Your Company - Become a Kelvin TOP-SET Tutor
If you are an experienced investigator and would like to learn more about the TOP-SET system in order to teach these world-leading incident investigation techniques and skills to your colleagues then the Tutor Development Courses will be of interest to you.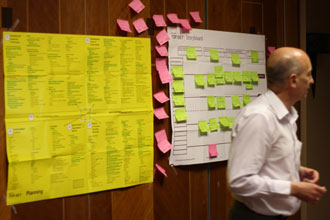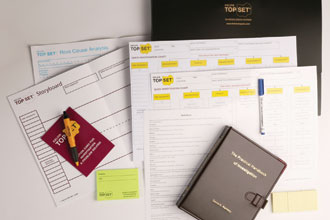 If you have previously attended the 3-Day Senior Investigator Course within the last 2 years (otherwise, please contact the office), successful completion of the Tutor Development Course will allow you to become a Kelvin TOP-SET Tutor of 1-Day Investigator Courses within your own organisation. The course begins with a short introductory session of the first afternoon where you will be set a task to complete prior to the following days course.
On completion of the Tutor Development Course, participants are also given a FREE personal login to the e-RCA online Root Cause Analysis course. This is intended to be used for their own professional development and is valid for as long as they continue to pay their annual tutor licence fee.
Course Dates
Personal Benefits of Becoming a TOP-SET Tutor:
Gain a thorough understanding of the TOP-SET System
Become equipped to teach the process effectively to others
Hone presentation skills and techniques to ensure that you are fully equipped to deliver your courses with confidence and authority
Receive all the tools required to teach the 1-Day Investigator Course
Get FREE personal access to the e-RCA online Root Cause Analysis course for as long as you continue to pay your annual tutor licence fee
Benefits to Your Organisation of You Becoming a TOP-SET Tutor:
Kelvin TOP-SET 1-Day Courses can be rolled out cost-effectively with ease
Incident investigation teams can be taught the basics of TOP-SET quickly
Employees no longer need to travel off-site to Kelvin TOP-SET courses
Courses can easily be arranged in a venue of your choice including remote locations
Courses can be held in other languages by multilingual in-company tutors
One standardised approach to incident investigation can be adopted throughout the company
Materials Provided:
Powerpoint Course Slides
Learning Objectives
Tutor DVDs
Tutor Teaching Notes
Access to the Tutor Zone which houses further support materials and back-up course materials along with relevant case studies and resources
---
As a result of your attendance on this course, you should:
Become comfortable teaching others within your organisation to use and apply the Kelvin TOP-SET Incident Investigation System.
Be able to explain and teach the following fundamental concepts:

incident statements
immediate causes
underlying causes
root causes
planning
use of the Storyboard
divergent and convergent thinking related to the different stages of the process
SMART actions

Feel confident in your skills as a presenter
Gain a raised awareness of the role of tutor / presenter / facilitator
Develop specific teaching skills and techniques
Achieve a good understanding of course management skills.
Demonstrate an ability to enhance learning through the use of relevant anecdotes and examples
The most important outcome is that you will be able to educate others to use the Kelvin TOP-SET Incident Investigation System effectively.
On successful completion of this course and payment of your annual tutor licence fee you will receive a Kelvin TOP-SET Tutor Certificate.
You will then be entitled to order course materials from Kelvin TOP-SET as required.
Pre-requisites:

It is essential that delegates have successfully attended the Kelvin TOP-SET 3 Day Senior Investigator Course within the 2 years prior to attending the Tutor Development Course.
A Licence Agreement is required between Kelvin TOP-SET and the tutor company. This Licence permits the tutor to teach the TOP-SET 1 day Investigator Course within their own organisation.
Licence Fee - Annual Tutor Licence Fee = £1,650 per person (this is payable in GBP each May)
The licence payment entitles the individual(s) to teach the 1-Day course within their own organisation.
Course materials must be purchased from Kelvin TOP-SET to ensure consistent course delivery and to ensure that all delegates have the necessary tools to investigate incidents as and when needed.
This course equates to 7 hours of CPD
If you are considering using an external venue to run an in-house course, we may well be able to help. We have an excellent relationship with a local hotel which offers very reasonable preferential rates to all of our clients for conference rooms and accommodation. The hotel is close to our global headquarters so booking a course here will also give you the chance to meet some of our core team to discuss any issues or address any questions that you may have. The venue is easily reached via Prestwick or Glasgow International airports in under an hour, so is ideal if you need to fly delegates in to the course from multiple locations. Please contact us for further information and rates.